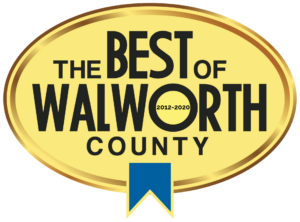 Thank you for voting us Best Chiropractor of Walworth County 10 years in a row!
What Makes Fontana Family Chiropractic Different?
In 2006 Dr. Bria had a vision of bringing a vitalistic healing center to Fontana, Wisconsin. He saw a need for a place of HOPE for people of his community and surrounding areas to experience ChiropracTIC at an extraordinary level of service. In 2008 Dr. Bria offered Dr. Griffin top join his growing practice. With the vision came massive action and Fontana Family Chiropractic has become the BEST Chiropractic practice in the entire county since 2012.
The doctors and the rest of the welcoming team at Fontana Family Chiropractic are committed to providing chiropractic solutions to address your unique needs, whether you are experiencing back pain, neck pain, headaches, muscular tightness/tension or you may be searching for pain relief after an accident or injury, we are your solution. Looking to improve your overall health, our chiropractors can help you attain your everyday health goals! Visit our testimonials page to find out what our patients are saying about our Fontana Family Chiropractic.
At your first visit to Fontana Family Chiropractic, Dr. Bria or Dr. Griffin will explain how vitalistic chiropractic care works. You will receive a full evaluation to see if our chiropractic solutions are a good fit to address your needs. If there is a good fit, we can customize a plan of chiropractic care for your condition and health goals.
If you have not been to a chiropractor before and want to find out more, please contact us or call (262) 275-5005 to receive the answers to your questions from our experienced team. We also welcome referrals, so we invite you to share our chiropractic and healthy lifestyle information with your friends and loved ones.
Ever wonder why two people living in [...]

I am tired of a system that people are so [...]

The best method of solving this important riddle is to [...]